Duluth MN Travel



Learn all about your Duluth MN Travel options right here! You'll be able to find fun and amazing things to do for the whole family on sunny and rainy days. Also, right here at this Duluth travel site, you'll be able to search our listings of all of the great Duluth Hotels and all your other lodging options.
Please Donate to Duluth and the surrounding area to help with the recovery after the flooding of June 19-20, 2012. Every little bit helps!
We've made it easy to get information on the most popular, exciting and fun places to visit while you travel Duluth! Check out our list of the Top 20 Duluth Attractions where we've broken down these iconic destinations with a bit of history and some worthwhile tips. A map is also provided for each Duluth, Minnesota travel destination. These great places to explore include the famous Aerial Lift Bridge, Glensheen Mansion, Canal Park, and Park Point!
By deciding to travel to Duluth MN, you may just get lucky enough to take in a sunrise like this!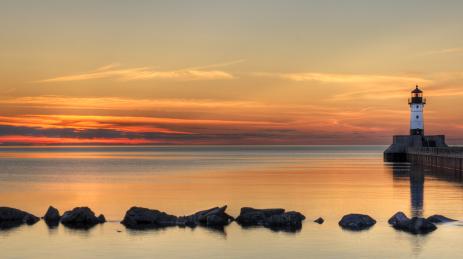 Hopefully, with the help of our Duluth MN travel site, you'll decide to take your next vacation to Duluth! The summer of 2011 promises to be an amazing time to visit Duluth.
Enjoy the information on the site and be sure to come back soon to fill all your Duluth MN travel needs.
Here are a few ways you can donate money to help the recovery effort in Duluth, MN after the June 19-20, 2012 flooding. Please donate to Duluth - either money or by volunteering if you are able.
Top 20 list of Duluth Attractions. These are the best of the best, from parks to museums to roads, numbered from 20 down to the Number 1 Duluth Attraction!
Many more Duluth MN Tourism options can be found here. Plenty of things to do rain or shine, summer or winter. From hiking on amazing trails to shopping for Duluth antiques- something for everyone!
Listed are all the available Duluth MN Hotels and Motels that you can choose from for your next Duluth vacation! Find a downtown, Canal Park, Miller Hill or even a Superior, WI hotel or motel.
For an unriveled experience, these Duluth Bed and Breakfast options are the way to go. If you've never stayed at a bed & breakfast, you owe yourself the chance in Duluth, MN.
There aren't too many Duluth Minnesota Resorts to choose from. However, the ones listed are all great resorts to stay at; especially good option for bigger families.
Great way to go. Duluth Vacation Rentals offer much more than hotels and are especially nice for larger families or groups. Staying in a home is just more comfortable than most options.
All of the Duluth Restaurants are broken down into several categories: by nationality, food type, and features. There are some great Duluth Restaurants to choose from.
Each and every Duluth Web Cam offers a unique and beautiful view of the city. It's fun to witness the changing of the seasons remotely thanks to these Duluth Web Cams.
This is the privacy policy for www.goduluthmn.com. There is also a link to the copyright notice and website agreement.
Use this page if you would like to contact us here at www.goduluthmn.com for any reason.