There are hundreds of amazing Duluth attractions that could keep you busy for weeks. However, most people go to Duluth for weekend-long trips. Because of this, our Duluth travel site is focused on showing off only the 20 best attractions Duluth, Minnesota has to offer!
From #1 to #20, here are the Top 20 Duluth Attractions:
You could argue that Canal Park is the #1 Duluth Attraction. I would agree with you. So, why is the Aerial Lift Bridge in the top spot? Close your eyes, think of Duluth and what's the first thing that pops into your mind? I'll bet it's the Bridge! Just like the Eiffel Tower is to Paris, the Aerial Lift Bridge is synonymous with Duluth.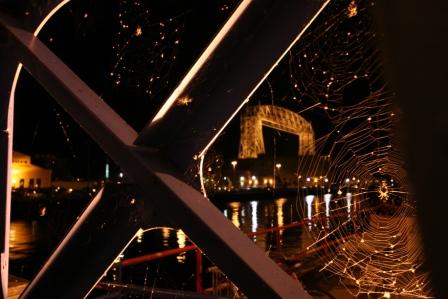 This is the epicenter of Duluth. In fact, more than 5 of these Top 20 Duluth Attractions are within the Canal Park area! If you had only 2 hours to spend in this city, head to Canal Park; it's a no-brainer! There's so much to do in this area, you could spend an entire weekend here and you'd find a bunch of new places to explore the next time around.
This is a sprawling road on a natural shelf half way up the hills of the city. Great views can be had everywhere on "The Boulevard" and there are countless parks to stop at along the 25 mile-long route. Pack a picnic lunch and take a leisurely drive; be sure to stop plenty to take in the sights and enjoy the marvel of Duluth.
Whether you want to get some exercise or simply stroll along the lakefront, the Lakewalk is a great path that runs for miles in the heart of Duluth. There are two different paths so that everyone feels safe. I really think it would be tough to visit Duluth and not step foot here once.
Right along the Lakewalk, this park is worth visiting for many reasons. There's an authentic Viking ship, a great statue of Leif Erikson, a great stage with a natural amphitheater and a huge English-style Rose Garden. Incredibly, the Rose Garden is entirely atop Interstate 35!
By driving over the Aerial Lift Bridge, you'll be on the world's largest freshwater sandbar AKA Park Point. During the summer, it is the place to be with what is known as Seven Mile Beach running all along the peninsula on the lake side. A vast park with an enormous beach towards the end of Park Point is worth visiting on hot summer days.
This is your chance to board a Great Lakes legend of an ore boat. At its prime, it was the flagship of US Steel and was unrivaled as far as workload and luxury. Take a tour and you won't be disappointed. In October, this Duluth Attraction becomes a Halloween favorite as The Haunted Ship!
This is a great ski area with loads of runs that both experts and novices can enjoy. The prices are very reasonable and it won't break the bank to take the family out skiing here. It morphs into a campground during the summer with many hiking trails up and down the hill.
If you want to get a different vantage point of the city and the sights, taking a Vista Fleet Cruise is the way to go. They offer both sightseeing and dinner cruises. Either way, you'll get up close and personal as you travel underneath the famed Aerial Lift Bridge!
The most famous restaurant in Duluth is also the main sponsor for the biggest event, Grandmas Marathon. There's great food, but people come for the atmosphere and the treasure trove of local history that hangs from the ceilings and walls.
Speaking of gardens, the Japanese Gardens here are unique and quite elegant. Also, climbing up to the top of the tower affords one of the best views of the city. There's also some great hiking to be had.
Taking a tour around this estate can offer a priceless look back into time. The architecture is renowned and the gardens are beautiful. You'll come away with a feeling for what life was like for the "Haves" in the early 20th century.
This huge building now houses many organizations and museums. Much of it remains as it was over a hundred years ago. Instead of being a transportation hub, it's now an epicenter of art and culture in Duluth.
This is certainly a Top 3 Duluth Attraction during autumn when thousands of birds of prey and other migratory birds fly right past Hawk Ridge daily. The many different species of raptors and vultures make this an educational and breathtaking place.
One of Minnesota's most beautiful State Parks, the wildlife and scenery will not disappoint. You can take a relaxing drive through the park and see quite a bit. However, I would suggest getting out of the car and hiking along the many trails that dissect the park.
Here, you can learn about Lake Superior's maritime history, get some great views and have a lot of fun with the different exhibits. It's free for all visitors too!
If you're a zoo-goer and visiting Duluth, there is a zoo in Duluth to visit. Unfortunately, we've taken down our page filled with information on this Duluth attraction so there won't be much information on this page. We're very sorry about any inconvenience this may have caused…
This Duluth Attraction can be a great time and learning experience for everyone. There are local fish and small animals as well as some exotic fish. This place will amaze you.
I'll admit it right now; for most kids, this would be the clear-cut #1 Duluth Attraction! Basically, take your favorite outdoor waterpark, add all the amenities and build a hotel around it with a roof on top! That's THE EDGE.
Enjoy a little gaming in the heart of Downtown Duluth! It's not a huge casino, but big enough to have some fun and maybe just pay for your vacation?!?
Duluth Attractions Map