There is an area along the eastern portion of Skyline Parkway that holds a special place in the hearts of birdwatchers and nature lovers. The Hawk Ridge Nature Preserve in Duluth, MN is a parcel of 315 acres of land that draws 1000's of excited binocular and telescope-toting people each autumn season. While it's a learning experience for some, it's a yearly habit for others. In fact, people from all 50 states and over 40 countries have come to view and count the many species of migratory birds that fly in the sky above. Below is a common visitor: a Red Tailed Hawk.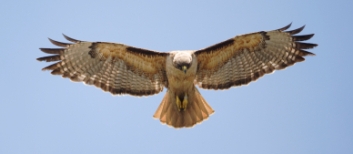 History
Before 1950, local hunters would think nothing of using birds for target practice. The songbird and raptor populations were declining. So the Duluth Bird Club, now known as the Duluth Audubon Society, stepped in. The club publicized the killing and prohibited hunting within Duluth city limits forever. In 1951, a bird watching club was formed and they chose the highest point along Hawk Ridge to set up a station. By 1972, the first systematic counting of the birds began and the banding station had opened. A great addition to Hawk Ridge came when a powerful telescope and viewing platform were placed above Skyline Parkway on a rocky bluff.
How many Birds?
On September 15, 2003, the migratory bird count was 102,321! That is easily a one day record. To put that huge number in perspective, during that entire year 203,087 birds were spotted. What a busy day and year that was; the yearly seasonal average is just under 100,000. Not too many of these rare Peregrine Falcons (below) were part of the count.

A Great Place to Visit
The raptor banding and Adopt a Raptor program are very popular with tourists and the many school groups that come to Hawk Ridge. What is it? Well, a bird of prey is caught by an expert, banded and then released. This is where the Adopt a Raptor program comes in play. You can choose to sign up to take part in the program by making a donation. You choose which kind of bird you would like to "adopt" and when it's your turn, you get the chance to hold and release the bird! No matter if you take part in the program or not, it's a quite exhilarating experience for all gathered.
As you ride along Skyline Parkway from either direction, you will eventually come to Hawk Ridge. It is located on the eastern part of the scenic road, above the Lakeside/Lester Park areas of Duluth. There is an extensive hiking trail system throughout the park; including the Superior Hiking Trail which is interwoven among the trails and continues up the North Shore of Lake Superior. Many informational booths are scattered throughout and there are plenty of volunteers on site who are trained to educate and interpret information about the birds.
It doesn't cost anything to get into this great Duluth Attraction; but bring some money with you. There are arts and crafts booths with birding and nature items for sale. There are also food vendors on-site for weekends during the peak season. If you want to see exactly what's open, visit the official website for Hawk Ridge.
It is a serene place at times, while other times it's very crowded and congested. But it is always an enjoyable place to stop when you make Duluth your fall destination. The colored panoramic view in autumn is worth the trip alone; seeing a variety of owls, falcons, and hawks will have you wanting to come back for more each year.