Minnesota's seventh largest park, at 8,818 acres, is Jay Cooke State Park. It is located 23 miles southwest of Duluth and hugs the St. Louis River from Fond Du Lac to Carlton, Minnesota. This park registers over 250,000 visitors and campers per year. Jay Cooke's campground has over 100 campsites and five rental cabins. Two spacious picnic areas are available, one at Oldenberg Point and the other at the historic River Inn, which now serves as the Visitor Center. The latter was built by the Civilian Conservation Corps and has withstood decades of harsh Minnesota winters. Both have fireplaces and electricity for your convenience. The park has miles and miles of hiking trails that become cross-country ski trails in the winter; they actually connect to both the Willard Munger State Trail and the Superior Hiking Trail.
Seismic activity along the St. Louis River in Jay Cooke has exposed layers of slate, greywacke and native brownstone. Brownstone was quarried along the river and in Fond Du Lac; it was then used to build buildings which can be seen in many areas of Minnesota and Wisconsin.
History of Jay Cooke State Park
Jay Cooke was a banker from Philadelphia who traveled north to help develop the Northern Pacific Railroad. He also sold Civil War bonds; in fact, he sold over 1 Billion Dollars worth to fund the government side of the war. Cooke came to Duluth in 1868 and began a railroad from Carlton, Minnesota to Tacoma, Washington. When he himself became a billionaire, he donated land and money for the railroad.
The land became a park in 1915 when the St. Louis River Power Company donated 2,350 acres of land. It seemed appropriate that the largest park in the northern part of the state be named after the entrepreneur.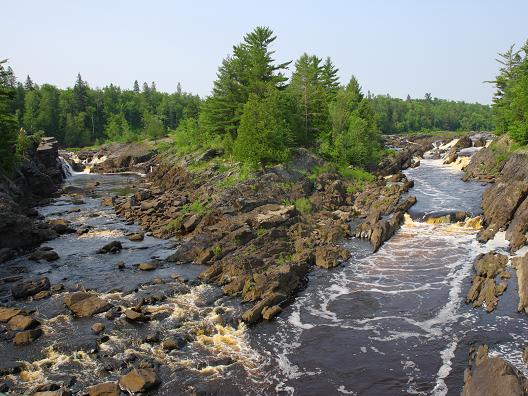 A Beautiful State Park
The park comes alive in autumn, thanks in part to much of the forest being maple trees. There have been 46 types of animals spotted in the park and roughly 176 species of birds. Black bear, timber wolf and coyote are the largest of the animals seen. The rare Pileated woodpecker, great blue heron and marsh hawks make the park their home.
The drive to Jay Cooke State Park begins as you drive south along Highway 23 from Duluth. Driving through Fond Du Lac, the oldest town in Minnesota, you'll then veer to the right onto State Highway 210. You'll be heading west and it will take you on a picturesque and winding drive through the entire park, which ends in Thompson, Minnesota. There are many places to stop along the way and you could surely make this an entire daylong trip!
You can't visit this scenic park without seeing the famous suspension bridge known as the "Swinging Bridge". It, too, was built by the CCC in 1933. It is over 200 feet long, 126 of which are directly over the rapids of the St. Louis River. Steel cables now support the wood and steel structure, but when it was first built it truly lived up to it's name. At that time, the wooden bridge swayed when walked on and was a huge drawing card to the park for adventure seekers. The bridge as it is today was rebuilt in 1953 for more safety and longevity.
Jay Cooke State Park and its rugged beauty draw visitors from far and wide, with many being repeat visitors year after year. Bring a camera, hiking shoes and binoculars. And be sure not to forget your curiosity before you enter the park.