If you ask any Duluthian, "Where's the action?" They will tell you: Canal Park! It's the area just east of, and basically part of, downtown Duluth. If you look for the Duluth Aerial Lift Bridge, you will be headed in the right direction. Along the main drag, there is an eclectic variety of shops, restaurants, and things to do. One of the highlights is simply walking along Canal Park Drive from beginning to end. In the area, you will come across unique gift shops, ice cream and fudge shops, antique stores and restaurants galore. Just across this road to the east are many five star hotels located along the Lakewalk and Lake Superior, with stunning views of the lake.

Canal Park Attractions
Dewitt Seitz Marketplace is a historic building that holds 11 shops and restaurants. Two of the most frequented are the Amazing Grace Café and Hepzibah's Chocolate Shoppe. Gift and clothing stores abound, the rustic and natural woodwork is worth the trip inside.
Grandma's Restaurant is a popular fixture in Canal Park. Besides being a wonderful place to dine and play all sorts of games, it is the main sponsor of the world famous Grandma's Marathon, the 26 mile run from Two Harbors, Minnesota, to Duluth. It is held every June.
The Lake Superior Marine Museum is located at the base of the Aerial Lift Bridge; admission is free! An old fashioned popcorn wagon can be seen every summer near the museum. If you walk toward Lake Superior from the parking lot, you'll find Crabby Bills, a snack shop that serves the public from an authentic fishing boat named the Nels J. A great spot to snap a photo!
Continue on and take a walk along the Pier and watch the freighters come in to port. The Aerial Bridge will sound its horn after the ship announces its' arrival. A short sequence of horn blasts follow between the captain and bridge operator. Towards Lake Superior, along the canal, the lighthouse at the end of the pier was built in 1909, three years after the bridge was completed.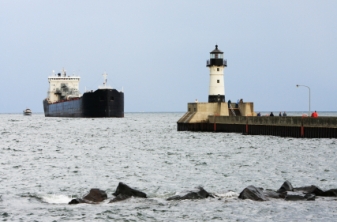 Summertime in Canal Park has many more fun options to offer. For instance, there are two carriage ride services available. Both Top Hat Carriage Rides and River's Bend Carriage Services run from Memorial Day to Labor Day. You can rent a horse drawn carriage for a fee; the rides run from half hour to a full hour long. The carriages navigate directly alongside vehicles, with the horses amazingly calm and steady. Evenings are especially popular for the carriage rides, in part thanks to the amazing and beautiful Duluth Lift Bridge having a golden glow from the lights that are strategically placed nearby.
Wheel Fun Rentals, a business that rents unique pedal-powered vehicles, is always busy and hopping! There are Surrey quadricycles for rent. They also rent out coupes and bikes; they all can be seen daily scurrying along the Lakewalk. Rentals run from $8 to $16 per hour and they are a perfect family fun thing to do.
One of the most popular ways to see the area in a different way is by taking a tour on a Vista Fleet Duluth Cruise. They offer 1½ to 2½ hour narrated boat cruises. The basic cruise offers a tour of the waterfront, St. Louis Bay and travels under the Aerial Lift Bridge into Lake Superior.
As you take your time and sight see in this busy part of Duluth, you will come across many other surprises. Many sculptures can be seen that were created by artists in Duluth's sister cities from Russia, Japan and Sweden. The USS Sundew tug was an icebreaker on the big Lake for many years and has come to rest near the SS William A. Irvin, a ship and museum that is a popular stop for tourists.
Very close to the huge William A. Irvin is the DECC (Duluth Entertainment and Convention Center). There are several unique events that are held in this huge complex yearly. Within this area, there is a movie theater called the Marcus Duluth Cinema (formerly known as the Duluth 10). The Duluth Omnimax Theatre is also located within the DECC area.
There is so much more to see when you take the time to visit Canal Park in Duluth. A couple of days may not even be enough time; you will probably leave this fascinating area wondering if you've seen all it has to offer! A great way to help fix this problem? Just stay in one of the great Canal Park Hotels for the duration of your stay!