What's the first thing that comes to mind when you think about Duluth? Lake Superior, right? If not the lake itself, probably something on the lake, near it or a place with a killer view of it. Enter the Vista Fleet in Duluth. What is that? The Fleet consists of two boats that run both dinner cruises and sightseeing cruises in and around the Duluth Harbor. If you've never actually been out on Lake Superior, you owe yourself the opportunity; you will not be disappointed. Taking a Vista Cruise will be relaxing, informative and you'll have a view of Duluth like you've never imagined.
Sightseeing Cruises
The Vista Fleet Duluth Sightseeing Cruises depart from the waterfront dock behind the DECC. They run multiple times daily from late spring and until mid-October. The narrated boat tours are 1½ hours long. You will be taken past the grain elevators, see lake freighters gliding by, spend part of the tour on the St. Louis River bay and even go under the Aerial Lift Bridge!
Dinner Cruises
The hillside of Duluth is especially beautiful at night, when Sunset Dinner Cruises are available. The Vista Fleet offers these 2½ hour long cruises during the summer months from Thursday thru Saturday at 7:30pm. They also have limited engagements during the spring and fall seasons, which you can find on the official site of The Vista Fleet in Duluth.
Special Events
Want a more formal experience aboard a Vista Cruise? There are Elegant Champagne Dinner Cruises on selected evenings. Other fun trips include Pizza, Family Fun and Happy Hour cruises. The Fleet offers special holiday outings as well. They are on Mother's Day, Father's Day, Memorial Day and the Fourth of July. This last cruise is extremely popular as it gives you the most amazing view of Duluth's fireworks display!
Additional Information
It's best to book in advance for any cruise. The Fleet is versatile and can even host weddings! If you have a large group or want to plan an amazing day aboard the Vista Fleet in Duluth, contact them via their website. FYI, there is no parking at the dock. But for a fee, you may park in the lots across from the SS William A. Irvin and in the DECC parking lot.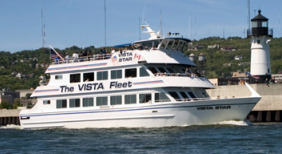 The Vista Fleet offers wheelchair accessibility on the first floor deck. There are limited strollers and highchairs available, too. There is a concession stand aboard the ship and washroom facilities. Seating is plentiful, with benches and cafeteria style tables.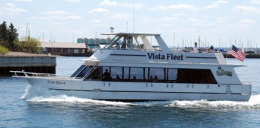 As you drift along the lake's surface, you'll experience the cool breezes and rolling waves. A tip: even during the summer months, it's not a bad idea to bring along a jacket. It is truly a gift to the senses as you tour with The Vista Fleet in Duluth!